The Process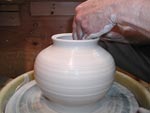 Stoneware clay is thrown on a potters wheel.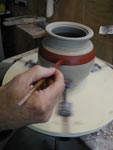 Pot is trimmed and a thin layer of iron oxide stain and clay mixture is applied to the surface.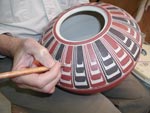 Design is sketched on with a pin tool and the iron stain is carved away with dental tools.
A darker cobalt stain is then painted over the iron stain.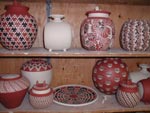 Pot is allowed to dry 1-3 weeks then fired to a low temperature (cone 08 bisque fire).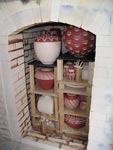 Bisque pot is then glazed on the inside only. Those areas not to have glaze are painted with wax.
Pot is returned to the kiln and fired a second time to a higher temperature (2400 deg. cone 11, stoneware).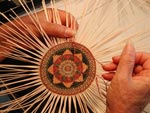 Finished pot is sanded and oiled. Wood handles, leather, and cord are added.
Hand woven medallions inlaid into tops. Waxed linen over reed with basket weave.